A thread on this topic was started for Stan but given that greta is just as cool I decided to have a shot at fitting SPDE spatial models similar to what INLA does but using greta and this article. So this is not using the greta.gp package.
Here is the model code (the data generation code is given at the end of the post):
y <- dat$resp

# the model parameters
mu <- normal(0, 1)
kappa <- lognormal(0, 1) # variance of spatial effect
tau <- gamma(0.1, 0.1) # scale of spatial effect
sigma <- lognormal(0, 1)
z <- normal(0, 1, dim = mesh$n) # std-normal variable for non-centered parametrization

# the precision matrix of the spatial effect
S <- (tau ** 2) * (G[1,,] * kappa ** 4 + G[2,,] * 2 * kappa ** 2 + G[3,,])
# drawing the spatial effect coefficient
beta <- backsolve(chol(S), z)

# the linear predictor
linpred <- mu + A %*% beta
distribution(y) <- normal(linpred, sigma)

# fitting the model
m_g <- model(mu, sigma, tau, kappa)
m_draw <- mcmc(m_g, one_by_one = TRUE)
bayesplot::mcmc_trace(m_draw)
coda::gelman.diag(m_draw)

The resulting draws shows that the chains get sometimes stuck and that the sampling of tau is not optimal: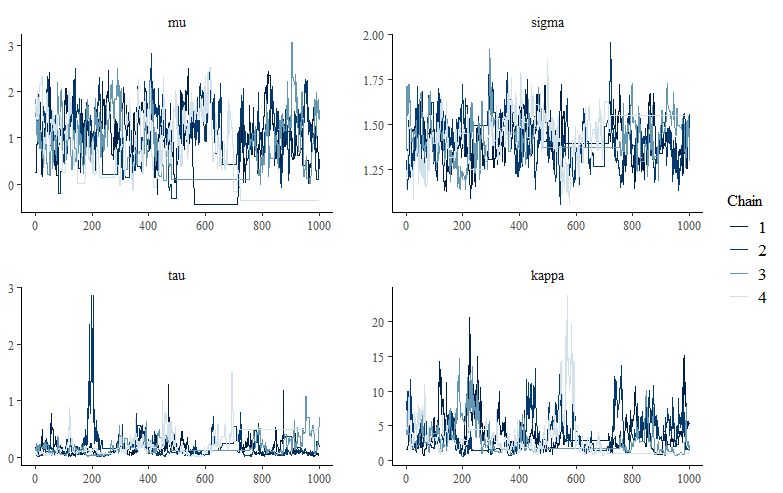 So to my questions:
Is the model code correct?
How to improve sampling?
Thx in advance for your inputs!
---
Now the R code to generate the data:
library(rstan)
library(INLA)
library(RandomFields)

dat <- data.frame(x = runif(100),
                  y = runif(100))

spat_field <- raster::raster(RFsimulate(RMmatern(nu=1, var = 1, scale = 0.1),
                         x = seq(0, 1, length.out = 100),
                         y = seq(0, 1, length.out = 100),
                         spConform = FALSE))
dat$resp <- rnorm(100, mean = 1 + raster::extract(spat_field, dat), sd = 1)
bnd <- inla.mesh.segment(matrix(c(0, 0, 1, 0, 1, 1, 0, 1), 4, 2, byrow = TRUE))

# a coarse mesh
mesh <- inla.mesh.2d(max.edge = 0.2,
                     offset = 0,
                     boundary = bnd)

# derive the FEM matrices
fem <- inla.mesh.fem(mesh)
# put the matrices in one object
G <- array(c(as(fem$c1, "matrix"),
             as(fem$g1, "matrix"),
             as(fem$g2, "matrix")),
          dim = c(mesh$n, mesh$n, 3))
G <- aperm(G, c(3, 1, 2))

# derive the projection matrix
A <- inla.spde.make.A(mesh, loc = as.matrix(dat[,c("x", "y")]))
A <- as(A, "matrix")